As my son wraps up his first 13 years of Public School Education, I am wrapping up my own 13-year career as a parent volunteer and, as it turned out, leader. I never expected, when we chose a school for Kindergarten, how much activism would be required. We entered the system at a time it was falling apart like never before, as corporate thought took over the most vulnerable cultural commons. Twenty years of budget cuts triggered by Prop 13 were worsened by an unexpected recession, and charter schools drained the district even further. But somehow, my son learned a lot…and so did I!
Having just completed my two-year term as President Kristen, I feel proud, inspired, and energized by the experience. It's like I earned an honorary MSH degree (Making S**t Happen) in the field of Playful Leadership, and am now ready to return to my regularly scheduled career… if I can remember what it was!
My motto was, "Good leadership releases energy…"
…and so much was accomplished by supporting parent leadership at all levels at Oakland Tech! I put my heart, soul, and (ta-dah) wardrobe into celebrating the school's past while looking to the future.
Highlights also included energizing the school's sustainability goals and creating a thank-you event for volunteers that somehow gave birth to the Invocation poem.
Oh yeah, that's what I was doing—writing!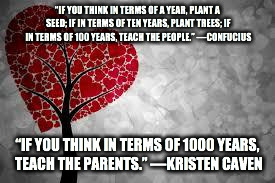 Although I did not accomplish any of my dreams of putting on musical theater for teens, I did what I could to strengthen the performing arts at Tech with fundraising, parent organization, and signing big checks! Such an intense "presiding" experience over all of the PTSA committees taught me a lot about keeping wheels turning and good feelings going when working with a team and a community. (YES, I will be writing about it, stay tuned!)
But for now, let me say this: are you thinking about stepping up and volunteering at your school? DO IT! Our time goes by quickly, and you can make a positive investment not only in your own child's experience, but in the future of your entire community.
After all, mom said…